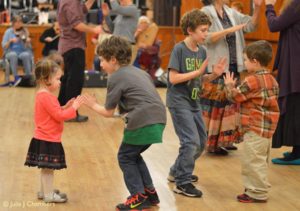 We've been organizing family dances through the school year, and they have been great fun! Doors open at 5:45pm, dancing runs from 6 to 7pm. There is an optional potluck at 7pm, and attendees are invited to stay for the evening contra dance afterward. This is a great chance for big kids (and parents!) to try more challenging dances.
The family dance welcomes people of all ages, no experience necessary! Family dances are listed on our main event calendar, or you can download this flyer to reference or print. We hope to see you and your family on the dance floor!
There are upcoming dances on January 6th, February 3rd, March 3rd, April 7th and May 5th.