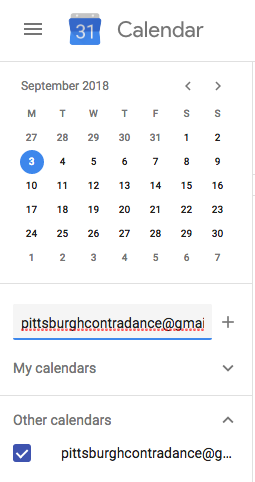 Please see the calendar below for our upcoming dances. If you would like to sync calendar to your Google Calendar (or another calendar), search pittsburghcontradance@gmail.com as shown on the right.
The calendar events show where the dance is being held, as we dance in different locations. Our main location is the Wightman School (5604 Solway St, Pittsburgh, PA 15217). For addresses, directions, and which buses to take, see the Directions Page!
September 30, 2022

Contra @ Wightman: Janine Smith + Amarillis & Anders
8:00 pm - 11:00 pm

October 2, 2022

Contra @ Avonworth: Gaye Fifer + The Hollertones
2:00 pm - 4:30 pm

October 21, 2022

Contra @ Wightman: Cindy Harris + Snappin' Bug Stringband
8:00 pm - 11:00 pm
There are occasionally other contras in the Pittsburgh area, listed on the calendar below.
There are no upcoming events.