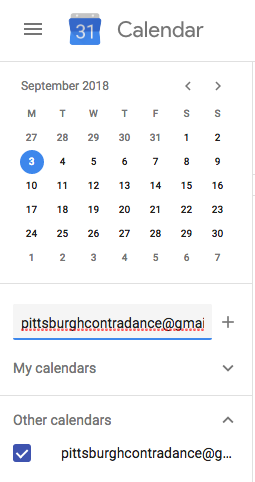 Please see the calendar below for our upcoming dances. If you would like to sync calendar to your Google Calendar (or another calendar), search pittsburghcontradance@gmail.com as shown on the right.
The calendar events show where the dance is being held, as we're dancing in a few different places this season. Our main location is the Wightman School Community Center – 5604 Solway St, Pittsburgh, PA 15217. We'll also be dancing one or two dances each at the Bulgarian Macedonian Center, St. Nicholas Greek Orthodox Cathedral, and Swisshelm Park Community Center. For addresses, directions, and which buses to take, see the Directions Page!
November 30, 2018

Contra at Wightman: Emily Abel with Devilish Merry
8:00 pm - 11:00 pm

December 14, 2018

Holiday Ball at Swisshelm Park
8:00 pm - 11:00 pm

December 21, 2018

Contra at Wightman: Bob Devaty with Lackawanna Longnecks
8:00 pm - 11:00 pm
There are occasional contras in the Pittsburgh area, listed on the calendar below.
December 9, 2018

CMU contra
5:30 pm - 8:30 pm
Skibo Gymnasium, Frew St & Tech St, Pittsburgh, PA 15213, USA
See more details

January 13, 2019

CMU contra
5:30 pm - 8:30 pm
Skibo Gymnasium, Frew St & Tech St, Pittsburgh, PA 15213, USA
See more details