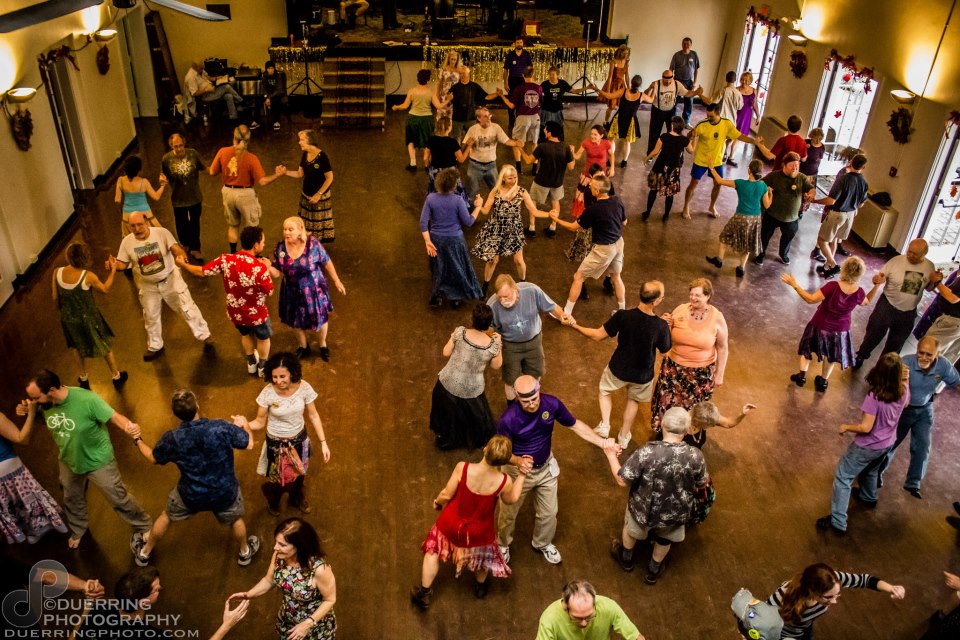 Welcome to the Pittsburgh Contra Dance Network. We dance Fridays at the Swisshelm Park Community Center. See the schedule and directions pages for more details. If you need help getting to or from the dance, we can help connect you with a ride. Please contact our ride coordinator. If you have any questions, comments, or concerts please contact us at info@pittsburghcontra.org or give us a call at (412) 945-0554.
Contra dance is a fun, social activity. We welcome people from all backgrounds, genders, races, abilities, ages, and experience levels from absolute beginners to long-time dancers. Our dances feature live music and all dances are taught. Bring yourselves, bring your friends, join the fun. Dances start at 8pm, with a beginner's lesson at 7:30pm. The cost is $10 for adults and $7 for students.
Still have questions? Wondering what to expect when you show up at a dance? See our Frequently Asked Questions page.
See below for information about family dances, season passes, contacting dance organizers, and adding yourself to our mailing list!
Family Dances
We've been organizing family dances through the school year, and they have been great fun! Doors open at 5:45pm, dancing runs from 6 to 7pm. There is an optional potluck at 7pm, and attendees are invited to stay for the evening contra dance afterward. This is a great chance for big kids (and parents!) to try more challenging dances.
The family dance welcomes people of all ages, no experience necessary! Family dances are listed on our main event calendar, or you can download this flyer to reference or print. We hope to see you and your family on the dance floor!
There are upcoming dances on January 6th, February 3rd, March 3rd, April 7th and May 5th.
Season Passes Available for Spring 2017!
We'd love for all of you to attend as many dances as possible. A full dance hall is great for everyone — the band, the caller, experienced dancers and brand-new beginners all benefit from a bunch of nice long lines full of people like you.
With that in mind, we are delighted to announce the Pittsburgh Contra Dance Season Pass! Sign up for a season pass and gain unfettered access to every weekly Friday contra dance in our spring season January through May. As a season pass holder, you'll also receive two guest tickets (to help you spread the joy of contra), and (as soon as we can get them printed) a personalized "Seasoned Dancer" name-button.
You can sign up for the season pass on our website, or you can sign up at the Friday night dances.
Social Media Presence
Help spread the word about our dance! Like us on Facebook, or join our Meetup.com group.  You can also RSVP to dances on these sites to help organize with other dancers for shared rides or coordination with your friends.
Getting Involved
The Contra Council is the organizing body of the dance. If you are interested in seeing what's going on off the dance floor, or finding ways to volunteer, you can visit the contra council page. There you can read about the last council meeting (and the current things we are working on), see the date of the next meeting, or send us questions or suggestions. Volunteers make our dance happen. Thank you for all you do!
Contact Us
Please feel free to contact us at the emails linked below if you have any questions about the dance. For general questions, contact the current Contra Council coordinator who can either answer or find the people who can.
General Questions: Contact the contra council at info@pittsburghcontra.org
Pittsburgh Contradance Hotline: (412) 945-0554
Caller Bookings: Julia Chambers and David Adamson
Band Bookings: Gaye Fifer
Website Questions: Bronwyn Woods
Rides:  Ride Coordinators
Join our Mailing List
In addition to the news posted to this site, we have a mailing list maintained as a google group. Enter your email below to subscribe or follow the links to view the group and manage your subscription.
The Weekly Reminder list sends weekly reminders about dances and occasional announcements of special events. Enter your e-mail below to subscribe.