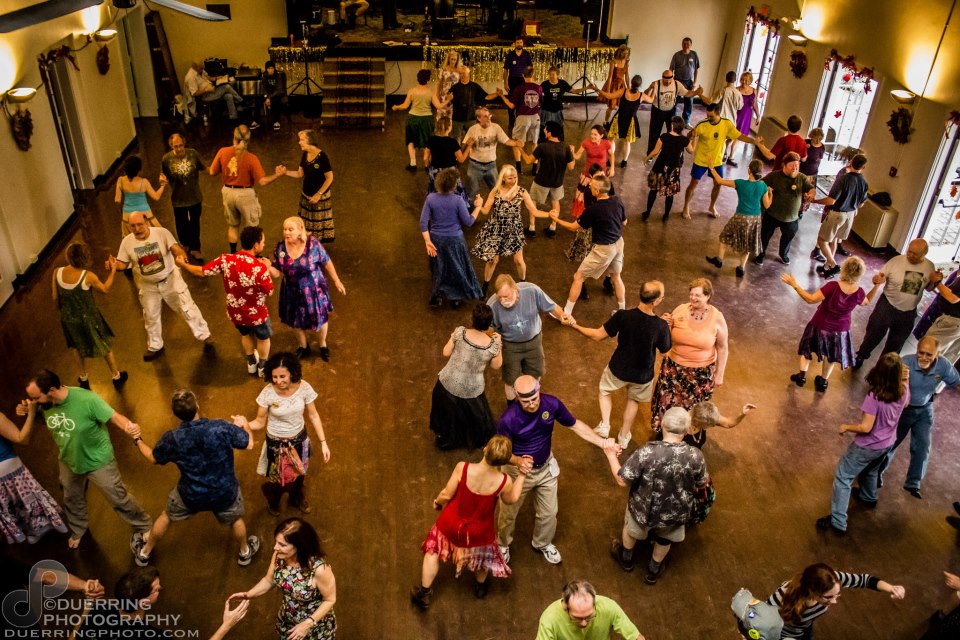 Welcome to the Pittsburgh Contra Dance community web page. We dance Fridays at the Swisshelm Park Community Center. See the schedule and directions pages for more details. If you need help getting to or from the dance, we can help connect you with a ride. Please contact our ride coordinator.
Contra dance is a fun, social activity. We welcome all ages and experience levels from absolute beginners to long-time dancers. Our dances feature live music and all dances are taught. Bring yourselves, bring your friends, join the fun. Dances start at 8pm, with a beginner's lesson at 7:30pm. The cost is generally $10 for adults and $7 for students.
Still have questions? Wondering what to expect when you show up at a dance? See our Frequently Asked Questions page.
Social Media Presence
Help spread the word about our dance! Like us on Facebook, or join our Meetup.com group.  You can also RSVP to dances on these sites to help organize with other dancers for shared rides or coordination with your friends.
Volunteering
If you are interested in how the dance runs, or in how you can volunteer to make it happen, see our volunteer wiki (experimental, and under development).
Contra Council Election
At the dances on February 27, March 6, and March 13 there will be a vote to elect the first Contra Council, as established by the recently approved bylaws. Many community members have volunteered to serve on the Council if elected. To help everyone put names to faces, the volunteers are listed here with pictures.
Contact Us
Pittsburgh Contradance Hotline: (412) 945-0554
Caller Bookings: Cindy Harris
Band Bookings: Gaye Fifer
Website Questions: Bronwyn Woods
Rides:  Ride Coordinators
Join our Mailing List
In addition to the news posted to this site, we have a mailing list maintained as a google group. Enter your email below to subscribe or follow the links to view the group and manage your subscription.
The Weekly Reminder list sends weekly reminders about dances and occasional announcements of special events. Enter your e-mail below to subscribe, or visit this group.
Our Upcoming Dances

April 3, 2015

NO DANCE

8:00 pm to 11:00 pm

April 10, 2015

Jim Kitch with Coffee Zombies

8:00 pm to 11:00 pm

April 17, 2015

Carol Kopp with Amarillis

8:00 pm to 11:00 pm

Other Upcoming Local Contra Dances

Like us on Facebook

Basic Info

Unless otherwise noted, the following is true for our Friday dances. (Other local dances will have different details, which may be available in the event description on the schedule page.)

Dances run from 8-11pm with a beginner's lesson at 7:30pm.

Dances cost $10 for adults and $7 for students.

Dances are held at Swisshelm Park Community Center (1050 Windermere Drive).